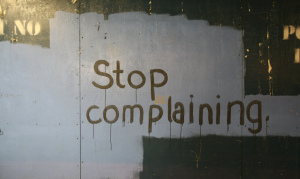 Sometimes I feel like complaining. Maybe you do too. And sometimes it's good-natured, and sometimes it's not. Sometimes it's in humor, and sometimes I really mean it. And maybe it's like that for you, too.
Two of this week's Lectionary scriptures included elements of complaining today, with the Israelites worried about where the next meal would come from in Exodus 16:2-20 and in Jesus' parable of the vineyard workers in Matthew 20:1-16.
Take a listen.  The audio is from our church website.  More can be found at www.pbumc.org/sermons.
[audio http://www.pbumc.org/media/audio/2014/Sermon.20140921.mp3 | titles=Why Are You Complaining? – Pastor Bob Rhodes]