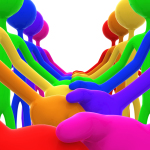 This past Sunday was World Communion Sunday, a day when Christians around the world celebrate Holy Communion on a particular day as a symbol of our oneness in Christ Jesus. We explored the importance of our own diversity as a congregation, of the diversity of our community and our world, and the importance of Christ in uniting us all.
As a resource, I draw from the World Communion Sunday episode of Chuck Knows Church as well as Philippians 3:4b-14.
Take a listen.  The audio is from our church website.  More can be found at www.pbumc.org/sermons.
[audio http://www.pbumc.org/media/audio/2014/Sermon.20141005.mp3 | titles=Unity in Diversity – Pastor Bob Rhodes]