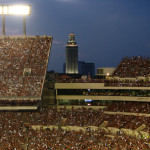 I've always loved football. I played a bit in school but wasn't that good. But it helped give me an appreciation for the game. Even so, I only watched NFL and usually nearer the playoffs and Super Bowl.
But then I moved to Nebraska. If you haven't experienced Nebraska football, if you haven't been in Memorial Stadium on game day…
It's a whole new experience. I became an instant fan of the Cornhuskers and an instant fan of college football.
So now that the playoff season is over (as well as the Super Bowl and National Signing Day), I think there may be room for evaluation. And I think it's important to evaluate, especially since this is the first year of the College Football Playoff in this post-BCS era.
Because mostly I'm disappointed. And because I work in a church, I think of it in terms of faith.
Should I be disappointed? As a Nebraska fan, I'm also by nature a Big-10 (B1G) fan. And Ohio State's win makes a statement in a year when there's been increasing criticism of the B1G. Shouldn't I be happy?
But look at how Ohio State made it's run. It's not just the games against Alabama and against Oregon. Those were well-played well-coached games. They were exciting. They were fun.
But let's talk about the game that got Ohio State into the top four. Let's talk about the game that got Ohio State selected by the Selection Committee to play Alabama in the Sugar Bowl.
Ohio State's last non-playoff game was against Wisconsin on December 6th. Ohio State not only won, they creamed the Badgers. But it wasn't exciting. It wasn't fun. And you'd think I'd find a Wisconsin-bashing fun since they beat Nebraska handily just a few weeks prior.
But it wasn't. There was no sportsmanship. There was no grace. There was little substitution of second- and third- and fourth-string players. There was more scoring. There was more beating. There was more statement-making. There was only the effort to prove to the Selection Committee that #5-ranked Ohio State should be ranked #4 instead, should be in the playoffs.
And I don't think the Committee should have fallen for it. It's an absence of grace, that idea of showing what many see as undeserved care or even love. I think the Committee's decision teaches future coaches and players that rankings and playoffs are more important than grace, are more important than sportsmanship.
But in my opinion, nothing is more important than grace. Sportsmanship should be the game. Sportsmanship should be college football. Maybe it has been, but this season it wasn't.