I've been a member of a church my whole life.  My grandfather was a pastor, his brother was a pastor, and there were others before them.  And now I'm a pastor.  I serve a fairly large church in Grand Island, Nebraska.  The good life.  On a stick.
I'm also a United Methodist.  My grandfather & great-uncle were Methodist.  My parents chose United Methodist churches when I was growing up.  I attended the same United Methodist Church for more than 20 years before heading off to seminary at Claremont School of Theology.
I resonated early on with the idea that God is one who expresses love rather than anger or hatred or contempt, and God calls all of humanity to do the same.  I was most moved by Jesus' final teaching in the Gospel of John when he gave that new commandment:  love each other, and that's how people will know who you are.
Like a good Methodist, I think that the ancient and sacred Christian texts have everything I need to figure out God's message for the world.  As a pastor and a preacher, I am a student of the Bible and continue to read and study.
And it's hard.  It's really hard to figure out what's written there because it challenges me and it makes me think and it forces me out of my comfort zone and it transforms me.  God transforms me.  And I can't help but keep working at it, because the more I do the more I become a better person.  That's the way I think about it.  That's the way I experience it.
I recently read a blog that made me see that I've been somewhat of a hypocrite, though.  I haven't been doing all I can – as informed by sacred Christian texts – to show the love that Jesus teaches and that God calls me to give.  I haven't been open to God's transforming work as completely as I could be.  I haven't been showing the world who I am because of the way I show love for all of humanity.
I have been silent in the face of exclusion and condemnation.  I've been afraid of offending people.  I've been afraid of pissing people off.  And this stops now.
The blog was from Dan Pearce's Single Dad Laughing site titled I'm Christian Unless You're Gay.  It's an excellent read.  Please check it out.
He writes of judgement, hatred, and bullying for any reason and how it's completely against the tenet found in a number of religious traditions to express love to one another.  He specifically discusses the Christian (and I see it from other religious and non-religious traditions) abuse of gays and lesbians.  And he's right.  I see it.  All the time.
And I've been silent.  I've been afraid to say something.  And this stops now.
I'm a Christian pastor who loves the LGBT community.  I'm a Christian pastor who doesn't believe that homosexuality is a sin.  I'm a Christian pastor who thinks that gays and lesbians and bisexuals and queers and transgendered persons are not only invited by God into faith communities, but who are essential to the meaning of true community.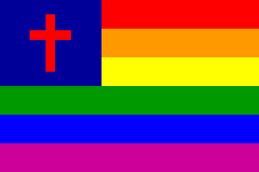 And I would be remiss not to note that the United Methodist Church disagrees with me, and instead notes that homosexuality is "incompatible with Christian teaching."
Even so, I refuse to be silent.  I refuse to give in to my fear of the response.  I refuse to give in to the fear of consequences.  I refuse to exclude these persons from the Christian community.  Because that's not love.  That's not life-giving.  That doesn't show who I am by the way that I love the world.
Many of my friends will disagree with me.  Many will cite scripture to me.
They'll reference the creation story in Genesis and tell me that God created Adam and Eve, not Adam and Steve.  Even though that story is about creation and procreation, about addressing human origin.  It's not about faithful same-gender relationships.
They'll reference the Levitical laws, forgetting that we already ignore most of those laws based on Paul's writing in Galatians that the law has been fulfilled in Jesus Christ or his writing in Romans that we are no longer under the law.  And even so, careful reading of the specific Levitical text seems to show that it upholds patriarchy instead of condemning faithful same-gender relationships.
They'll reference the story of Sodom and Gomorrah, which is about gang-rape and fear.  It's not about faithful same-gender relationships.
They'll reference 1 Corinthians and Romans, two letters from Paul – who by the way was a very gifted writer and whose Greek is well known for its form and poetry.  But they won't mention that there's debate on the meaning of the Greek words used (and that weren't even translated to "homosexual" until the 1940s).  Careful analysis reflects a likelihood that these texts are likely to reference pederasty (the ancient practice of enslaving young boys who would be sexually exploited).  It's not about faithful same-gender relationships.
And yet I would still be a hypocrite if I were to say that I have the exclusive (capital-T) Truth of God's will for the world.  If I exclude persons who disagree with me, I'm doing the same thing as those who exclude persons based on their sexual identity.
My particular passion is about exclusion of the LGBT community, and I won't be silent.  And I don't intend to silence anyone else.
Instead, let's talk.  Let's have a conversation.  Let's be respectful.  Let's show love to one another, because that's how the world will know who we are.
I'm a Christian pastor who doesn't think homosexuality is a sin.  Let's talk.