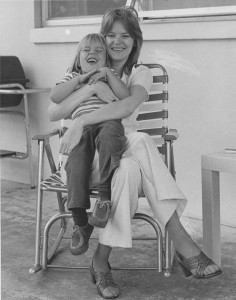 I honestly never pictured myself as a 30-year-old, mostly because when I was young 30 seemed really old, and when I was actually 30 (and beyond) I still didn't feel old enough.
And so to realize that it's been 30 years is mind blowing and awkward and tragic and startling. Again. And still.
This #tbt marks 30 years since she died. And honestly, I didn't remember that when I woke up today. Not only have I lived longer without her than with her, but I've lived a longer life than she did. And today is unexpectedly emotional.
It seems both intensely fresh and a lifetime ago that I was in Jr. High hearing the news that my mother had died. I remember my father's tears, my own tears, and the blur of days to follow. And now my own son is only a year younger than I was on that day.
I remember all the times I would expect to see her, and then I didn't. I remember the times I would expect to hear her voice, and then I didn't.
And I remember the day I realized that my primary memories are of her photographs and old VHS tapes because I can't quite see her face in my mind without those aids. And then the guilt. Because a kid should remember his mom.
But the parts that are truly her that I remember have to do with her presence, her love, her laugh, her music. I learned not long ago about her intense love for college football (Mizzou-RAH!) even to the point of listening to a game in her hospital room right after delivering one of her children.
I learned the family scandal that resulted in her following some actor half-way across the country convinced that she'd marry him. And she did. And she had two beautiful daughters (along with their obnoxious older brother).
And here is where I focus. The fullness of her love, the compassion of her heart, the deepness of her faith, the music of her voice, the love of her entire being.
And hers is a love that remains. Thanks, Mom. I love you.